Solar Energy Players in India
Who are the various solar energy players in India ? The various groups who make up the Solar industry.Here is a list we have compiled internally and would like to share.
Solar module manufacturers
There are more than 110 Indian solar cell and module makers registered with the government.  Top producers include Jupiter Solar, Vikram Solar, Waree Solar and Moser Baer India Ltd.  So far, eighty five percent of the capacity addition have been through imports from China, as they are able to sell modules at 10-20% cheaper than their Indian counterparts. Indian manufacturers face many hurdles, including access to new technology, issues with import of raw materials, access to cheap finance and low operational capacity.
Solar module Monitors and Inverter suppliers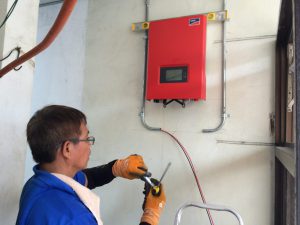 There are two kinds of Solar inverters , on grid and off grid. On grid inverters connect directly to the power grid and off grid inverters do not. In both cases, solar energy is converted from direct current (DC) produced by the solar panels into alternating current (AC)  by the inverter. AC energy is  used when required or transmitted to the grid. The size of On Grid  inverters are not related to the size of the appliances, they are feeding.  Off grid inverters have to be of the  correct size and match the appliances they are feeding . Grid connected inverters are more efficient (almost 99%) as compared to off grid inverters (82-87%).Most inverter manufacturers also supply sophisticated software to monitor the health and output of the solar panels and inverter system. Some well known inverter manufacturers are Sungrow, Zeversolar and URenergy.
Utility meter manufacturers
Utility power is automatically provided at night and during the day when the demand exceeds solar electric power production. These utility meters  are used for on grid systems. The meter tracks the nett energy consumption and bills the customer accordingly.
Battery manufacturers
Special storage batteries that stores excess energy  coming in from the solar panels . These batteries  distribute energy back out when there is a demand. Solar Photo voltaic panels continues to re-charge batteries each day to maintain battery charge.
Solar Product

manufacturers
Some of the popular solar products are water heaters and cell phone chargers.
Solar Panel tracker manufacturers
Solar panel trackers mount the photo voltaic cells on panels through a device that allows the panels to follow the sun as it moves across the sky.
Single-axis trackers follow the sun as it moves from East to West during the day.
Dual-axis trackers  follow the sun on its North-South journey over the course of a year.
Trackers  increase the power output from the Photo Voltaic plant but add to both the initial cost of the plant and to maintenance expenses.
Solar panel maintenance services
There are many companies specializing in Solar power panel and related equipment maintenance. Some of these maintenance activities are as follows.
Solar panels require regular cleaning and maintenance.  This is to keep them dust free for maximum solar production.
Inverters are  affected by grid power quality or other issues common to power equipment. This includes humidity or short-circuits caused by insects. They  require regular maintenance such as replacement of capacitors ,cabling, switchgear and fuses. The lifespan of an inverter is 5-10 years.
Battery packs require careful maintenance. Maintenance includes the physical condition of the battery (amount of electrolyte, cleaning of terminals) and the way we charge and discharge the battery. Battery life  reduces by repeated deep discharge and discharge before the battery has reached full charge.  Batteries last as long as 10 years or they can give trouble within a few days.
Solar Power installers 
There are about 1650+ turnkey Solar power installers in India. Some of these companies set up both commercial and residential solar power plants of varying sizes, while others focus only on the residential rooftop sector. These companies enjoy good relationships with a range of individual equipment manufacturers and can manage the integration and set up of the various hardware required to create a viable solar power plant. They bring together the solar panels, the trackers, the inverters, the battery packs, the utility meters and other hardware needed to set up the plant. They also provide design, development, and in some cases maintenance services after set up of the plant.
All pictures – courtesy Pixabay